Documentation - phpAlbum
Submitted by patrik on Tue, 2005-11-29 09:51.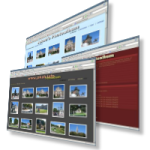 29.11.2005 - actual release phpAlbum_v0.2.4
This document handles about installation, setting up and using of phpAlbum.
It always describes actual released version.
In the next versions i try to make a link to this document in setup page of phpAlbum.
1. Installation
There are two possibilities how to install phpAlbum. For automatic and very easy installation go to INSTALL section. There you can install phpAlbum on your ftp-server just in few seconds. This is almost the best way for installing phpAlbum. Especially for people not comming from programmers or some other computer freak community. If you want to install phpAlbum manually then the following description should help you.
First you have to DOWNLOAD actual version of phpAlbum. It is recomended to have always the newest update, as this is an early stage of developing this tool.
Untar downloaded file as following ( you can use alsou winzip for unzipping this file):
tar xvzf phpAlbum_v0.2.4
Now you have created directory phpAlbum_v0.2.4 containing all files needed to install phpAlbum.
Create 3 subdirectories :
data_something
photos_something
cache
Most important is to make the data and photos directory with some appending strings like X2C4 or something that nobody can know. This is strongly recomended if you really want that the password protection of some directories is garanteed.
After this you can edit the file config_change_it.php and change there the only parameter having the right data_something/ data directory name (Slash on the end is mandatory!). Save this and change the filename to the config.php.
Now you can upload the hole directory to your webspace. Best way is to have an extra directory for this like phpAlbum.
Now you can try to look at www.yoursite.xyz/phpAlbum. If this is first installation, you will be redirected to the setup page. There you have to setup directories which are needed to run this program and change the password. Leaving the password blank makes possible for all users change the setup of your album.
You need an data, photos and cache directory. Data and cache should be writable by script-user like wwwrun or something like that.
You must change the rights on data and cache directories, so that user under which is Apache and php running can write in these directories. If this is not the case you will become some error messages in Setup Page.
Now save the settings and if no error messages comes, you are done.
After this you can upload your photos to photos directory, create sub-directories and use your web enabled phpAlbum.
2. Setting up phpAlbum
2.1. Main Setup
Setup password Set password for accesing this setup
Setup characterset Sets character set which should be used for all pages, default is UTF-8 now.
Photos directory Photos direcotry.
Cache directory Caching directory
Site name Site name, used as title for page.
Enable logo Enables logo, otherwise generated with theme
Logo path Type path to your logo file
Return to Home URL Enables retrun to home link.
New dir Indic means how many hours will be 'new' directory indicated
Photos(text) Main directory name, default is photos
Setuplink text If you left this field cleaer, you will get invisible link :)
Next text This text is used for the link to the next photo
Previous text This text is used for the link to the previous photo
Bottom next-prev Disable bottom Next-Prev links in photo view
Cookie-password How long (in hours) should be password stored on client side
Thumbnails setup:
Description is a text which will be displayed on page, this is the link used to switch resolution.
Thmb.size is the maximum size of thumbnail, no matter if this is width or height, it will always fit in size x size box.
Thmb.quality is quality setting which is used to generate displayed JPG. Its value is in % so possible values are 0-100.
Photo size is the maximum size of photo, no matter if this is width or height, it will always fit in size x size box. If you set it up as 0, there will be no resizing and that photo will be displayed in orginal resolution and quality.
Photo quality is quality setting which is used to generate displayed JPG. Its value is in % so possible values are 0-100. Used only if photo is resised
Enabled, this checkbox is used to enable this resolution. The default resolution is always enabled no matter if you check this or not. Switching links are displayed only if more then one resolution is enabled.
Default, this radio button is used the set up the default resolution, which is used for first time users. Default resolution will be automatically enabled, no matter if you check "Enabled" or not.
All values in thumbnail setup are just numbers, you have not to type somthing liek 30% or 120px or something like that. Just 30 or 120 is enough.
Themes setup:
Theme here you can choose your theme, actually there is now only one aviable
Styles chooses color model. With "custom" you can change all color settings
Logo-Style chooses logo style, none - meaning no logo, graphical - means schadowed logo generated with true type font, text - means just text displayed with some big font
Logo-text is the text used for generating Logo.
Logo-color is the main color of Logo, note that there are more colors generated
Background is the background color of all pages
Linkcolor is the color of all links used in phpAlbum
Textcolor is actually used for short descriptions of directories and for description of thumbnails
Bordercolor is the color of thumbnails and photos border
Photodesc-color is the color of photo descriptions, note that these are displayed with on border of photos
Note that all colors have to be typed in Hexadecimal format like 33FFAA, the character # is not needed, this is automatically added with script.
2.2. Setup Logs
Here you can setup the loggin functionality of phpAlbum.
Logging enabled enables logging functionality of phpAlbum
Logs filename is the file name where the log informations are stored
Exclude strings this is very usefull if you are not interested for logging of your access on the album. For example if i know the all access from adslxy.com is my access from home and access from ip-connect.dx is my access from work then you should write here adslxy.com;ip-connect.dx
2.3. Directories
On the main directory setup, you can change the password and short description of each directory / gallery.
If you want more you have to click on the link to the directory (actually this is the directory name on left side of this page).
There you can change also the long description of directory and all descriptions of photos.
2.4. Cache options

Thera are two options aviable for you.

Cache thumbnails check if you want to be thumbnails cached, this is higly recomended.
Caching resized Photos check if you want to be alsou resized photos cached, useful if you are used to upload fullsize photos. In that case it takes quite much time to generate resized photo. If it is cached, it takes that time only first time.

Also you can delete the cache. This is sometimes usefull if your cache becomes too large. The actual size of cached files is displayed in mega bytes MB.

If you turn off the caching, there will be no more cache files generated, but on the other side the already cached files will be alsou not used.

style="display:inline-block;width:468px;height:60px"
data-ad-client="ca-pub-8698264690166658"
data-ad-slot="4417389723">